The Pros and Cons of Underfloor Heating
18/04/2023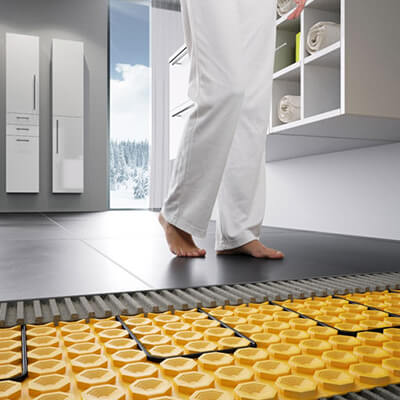 Underfloor heating has become a popular feature in many homes, especially those looking to improve efficiency or gain the space taken up by traditional radiators. From water underfloor heating to electric underfloor heating, Warm Floor Store has you covered should you decide to install underfloor heating in your home. If you are debating whether installing floor heating will be the right thing for you or your property, there are many considerations for you to take into account. Inevitably there are pros and cons associated with installing underfloor heating and we are here to summarise the main advantages and disadvantages to help you make your decision.
Pros
Let's start with the pros of underfloor heating as these outweigh the potential cons. Underfloor heating systems require a lower temperature to run in comparison to radiators and these lower temperatures subsequently mean that, on the whole, they consume less energy. Traditionally radiators only heat up the area around them, leaving cold patches in a room.
Underfloor heating is one of the more energy-efficient heating methods due to the fact the heat is generated at floor level, across the whole of the room and therefore rises and disperses through the room more effectively. The increased efficiency of underfloor heating would lead to savings on heating bills which is a huge plus, especially in the current economic climate.
Ease of installation
Underfloor heating can be installed both in new builds or retrospectively as part of renovation projects. It is advised that the installation of underfloor heating systems (especially water based underfloor heating) is carried out by a professional. However, with the more recent introduction of reasonably priced electric underfloor heating mats and kits, underfloor heating is far more accessible to those doing DIY projects.
Energy-efficient heating
Underfloor heating is a more energy-efficient way to heat your home as it tends to use less energy than traditional radiators. You can get either electric underfloor heating or a water-based system, but both systems provide heat from the floor up. Electric underfloor heating systems work by electric heating wires or heating mats being connected to the mains electricity supply. The difference with water-based systems is that they pump heated water through underfloor heating manifolds and a series of ufh pipes heated by your chosen heat source.
Easy to run
After the initial installation, underfloor hearing requires little maintenance and most systems have lifetime warranties, including WarmUp, so you have that added reassurance. To support user experience, many systems now come with smart thermostats, allowing you to control the system via smartphone apps which adds to the convenience. Underfloor heating is more easily controllable as it is split into different zones with a thermostat per room or area so you can set your preferred temperature.
More space and design freedom
Standard radiators can take up needed space in your home. One of the benefits of underfloor heating is that the systems are hidden, leaving space to configure the room's furniture however you want it. There are also no restrictions to what type of flooring you wish to use as underfloor heating works with all kinds of different floors if the surface is prepared correctly.
Cons
When comparing the pros and cons of underfloor heating, it is important to recognise that there are definitely fewer disadvantages than advantages. We've included some of the disadvantages of ufh below to help with your decision-making process.
Installation cost
The cost of installing underfloor heating varies depending on the system you have chosen, the size of the room and the costs of your chosen tradesperson. Underfloor heating systems themselves can vary widely in price, however, once you've factored in your labour costs as well as essential materials such as boards, adhesives and then the flooring itself, costs can quickly rise. Despite the initial installation cost being high, in the long run, the setup cost is offset by the long-term savings of running underfloor heating.
Installation time
Electric underfloor heating systems generally require a self-levelling compound which can take time to dry and needs to be fully dry before any floor covering can be placed. However, if you're in a rush, rapid set self levelling compounds such as Ultra Tile ProLevel Rapid 20 Fibre Reinforced Flexible Self Levelling Compound, which dries in 30 minutes, can be used to speed up the process. This means that the installation time for these projects tends to be slightly longer as you cannot continue with the installation until the product is completely dry. Water-based systems tend to take longer to install, due to the groundwork and plumbing required to prepare the surface before the system can be fitted. This often requires several days to complete the installation.
If you're moving from a traditional radiator based heating system, you'll also need to consider that existing pipework will need to be capped and hidden. This process adds futher cost and time to your project.
Floor height issue
When deciding which ufh system to install in your home, it is important to consider the impact of additional floor height due to the preparation and installation process. Layers of insulation, levelling compound or screed, matting, cabling or pipes can all add to the floor build up height. This may not be an issue in all properties but must be a consideration.
Is underfloor heating worth it?
The simple answer is yes, underfloor heating is worth the initial investment. Although the initial cost of installing underfloor heating is higher than the cost of installing traditional radiators, the long term benefits of improved efficiency, additional space and ease-of-use make it a worthwhile investment for many homes. There are a variety of brands to shop at Warm Floor Store, from WarmUp and Schluter to Devi, Amber or Thermosphere which cater to a variety of different budgets. A final key point to keep in mind is that in the long term, underfloor heating will save a significant amount on energy bills. Over time, this saving would outweigh any additional cost accrued during the installation process.
Ready to add underfloor heating to your home? Shop our extensive range of underfloor heating products now!